Epikos helps support a Christian school and orphanage in Ntandi, Uganda. Ntandi is a village in western Uganda in a zero-income area near the Congo border and in the shadow of the Rwenzori Mountians. An Epikos family built an orphanage from the ground up. It provides a home for 68 children whose parents died from war, malaria, AIDS, or other diseases. The home is led locally by Christian staff who provide safe shelter, healthy meals, parental love, and Christian teaching. We often refer to the children as the sons and daughters of Epikos rather than using the term "orphans". The children attend either Ntandi Intergrated Primary School or Three Angels High School, which are adjacent to the campus of our sons' and daughters' home.
Sons and Daughter's Sponsorship Program
If you've agreed to sponsor an orphan, here's the commitment:
-Pray for your child by name every day.
-Send four letters each year (details below).
-Give $40 for your child to get a new pair of shoes and enable him to buy paper, a stamp, and an envelope to write back to you.
The child also will be able to buy a toothbrush, deodorant, or some other necessity. Please do not put the $40 inside the letter; place it in a giving envelope with your name and marked "Uganda Orphan", or you may give online using the "Uganda Orphan" button. The $40 is due by January 31 each year. For more information contact Brenda Hudson, brendarn@comcast.net, 503-679-8993.
Marriam's Story
Many details of Marriam's past remain unclear, at this time. We do know that both of her parents died on the same day, when she was only three years old, and that she hasn't walked since about the age of five. Some sources say that she was drugged by a relative that broke both of her legs so that she could beg for money in order to survive, and others believe that she was handicapped as the result of disease. Whatever the circumstance, she has suffered greatly, and really needs medical intervention in order to overcome her unfortunate incapacitation. See a video of her trip to the US.
Ron Gladden will lead an Epikos mission team to Ntandi, Uganda, from February 15, to March 1, 2017. The cost of the trip is $1,200 plus the cost of the flights. The cost includes your hotels, most meals, your share of the rental cars and fuel, and entrance fees to Queen Elizabeth National Park, the presidential palace, and the Kasubi Tombs (site of the burial grounds for four kings of Buganda and a UNESCO World Heritage Site). Not included are some meals, drinks, personal souvenirs, and gifts you might want to present to people in Uganda. Flight prices range from $1,300 to $1,700, depending on how early they are booked and other fluctuations. The total cost is $2,500-$2,900 per person.
We are limiting the number of participants to 10. You may reserve your place with a nonrefundable deposit of $200. If you follow through with your plans, the deposit will become part of your $1,200. If your plans change, the $200 will go to a project at the Ntandi campus.
Parents who wish to take their children should be aware of the following: We strongly recommend that you bring only children under 16 on your second trip to Uganda. The parent is fully responsible for the child's expenses and wellbeing.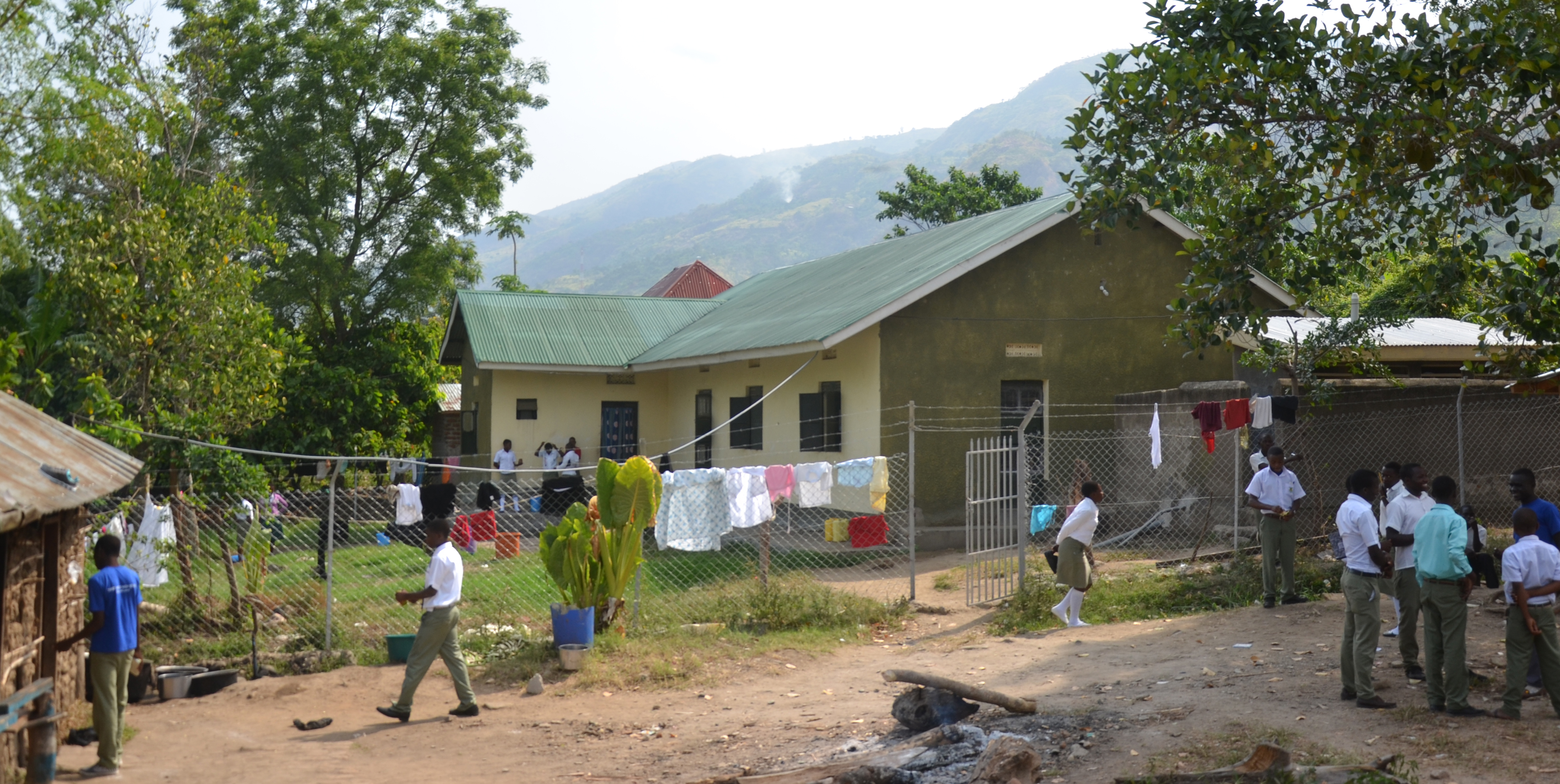 A mission trip to Uganda is a life-changing experience. You will encounter extreme poverty and conditions that you can hardly believe you are seeing. The hotels and food are very different than what you are used to. The hotels will have western-style toilets, but you will sometimes use a hole in the dirt. You might see some strange-looking bugs, and you will sleep under a mosquito net.
You also will meet wonderful people in sometimes-desperate situations who hope that someone cares about them and loves them. You will leave part of your heart in a country eleven time zones away and return home knowing that you made a tangible difference in the lives of some very precious people.
Before making the huge commitment of time and finances, we recommend that you pray for God's leading and that you talk with someone who has been to Ntandi who can help you decide whether you can be sufficiently adaptable for two weeks.
If you have questions, would like more information, or you're ready to sign up, contact Ron at rglad@missioncatalyst.org or 360-624-7271.
2016
Click here for the 2016 Uganda Mission Report in PDF.
2014
Many of the students at the Ntandi campus live in the dormitory because their parents do not live in the area. The government has mandated that the girls and boys be housed in totally separate buildings. In 2014, we raised $15,000 to build the first phase of the girls' dormitory.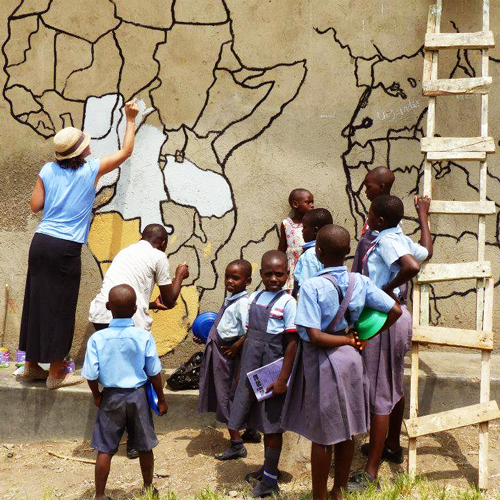 We also continued the Orphans Sponsorship Program so each of the orphans have a prayer partner and friend. Additionally, 30 sponsors committed to donating $39 a month to provide food every school day for a year to the 300 children who cannot afford to eat.
Finally, we committed to bring Marriam, a 16-year-old crippled girl, to Vancouver to receive medical treatment and physical therapy to help her walk. (Marriam arrived on June 2, 2015!)
Click here to read the 2014 mission trip report. Photos & Video
2013
In 2013, we raised $14,000 and built a fence around the campus to keep the children safe. We also purchased a commercial stove for the primary school to make their food preparation more efficient while saving them a lot of money on firewood. Several people committed to donate funds to provide lunch every school day for the 300 students who can't afford to eat and we found prayer partners for each of the 52 orphans. Additionally, we raised $2,500 to help some of the orphans with special needs. Thank you for partnering with us and with God to bless our friends in Ntandi! 
Photos
 & 
Video
2012
In the summer of 2012, we raised over $37,000 for the Ntandi school to construct and furnish a building that is now used as a kitchen, dining hall, and chapel. Thank you for helping make a difference in the lives of these kids! 
Photos
2011
In 2011, we created the Uganda Learning Library by sending literacy kits to Ntandi school. Each kit consists of a Teacher Resource Binder and six sets of 95 Leveled Readers, featuring Bible stories, nature, values, and more!
2010
In the summer of 2010, Epikos held a series of Shoeless Saturdays, shoes-optional days to raise awareness and funds for shoes for Ntandi. We were able to provide shoes for all 750 students and orphans.
2009
In 2009, Epikos partnered with a new congregation in western Uganda to purchase land and build a new church that accommodates 60 people. When we decided to provide the funding, the new church excitedly chose to adopt our name and call themselves Epikos Africa. (They weren't sure what Epikos meant, but they were pretty sure they like the name!)
by Ron Gladden  |  March 18, 2014
"I wish everyone could experience this for themselves. Words and photos cannot possibly capture what it's like to be here in the heart of Africa!"
We heard a version of this statement over and over during our recent, 13-day mission trip to Uganda. Every person on the team came back excited, humbled, and determined to do whatever it takes to help the people in Ntandi, a small village near the Congo border. We truly fell in love with the kids, the teachers, and pretty much everyone we met.
Our primary tasks were to deliver and assemble a new hand-powered, adult-sized tricycle for Marriam, interview each child in the Epikos orphanage, build a bridge across the creek that separates the orphanage from the school, and deliver medical supplies to the small medical clinic on campus. Our dental hygienist treated each orphan's teeth and distributed hundreds of toothbrushes and floss, and our team artist painted a beautiful mural/map of Africa on the outside of a classroom. We also accompanied all 52 orphan children on a field trip to the town of Fort Portal, where they enjoyed a mini-shopping spree, devoured a wonderful meal, and tasted ice cream for the first time in their lives. The team was phenomenal, God protected everyone, and the trip was a great success.
We want you to know three things:
1) Your gifts and prayers are making a difference that cannot be measured. Three hundred children at the primary school (grades 1-7) are eating lunch every school day because of you. The new fence around the ten-acre campus is of the highest quality and provides a sense of security to adults and children alike. The orphan children proudly showed us some letters their sponsors sent and expressed how thankful they are that someone truly loves them. Every donation, every letter, and every prayer changes a life.
2) We have four projects for 2014, which we hope to fully care for by the end of April:
Continue to feed the 300 children who are attending school but could not afford to eat lunch before people like you stepped up and provided the funds. Thirty-nine dollars feeds ten children every school day for a month. We need a total of 30 sponsors to donate $39 a month for a year.STATUS: Thirty sponsors have already made the commitment!
Bring Marriam,a 15-year-old crippled girl from the Epikos orphanage, to Vancouver to receive medical treatment and physical therapy. We are delighted that officials at Portland Adventist Medical Center have agreed to treat her at their cost and that one of our families will care for her in their home while she goes through rehab. We expect that her medical visa will be approved shortly and that everyone at Epikos will be able to meet her in person. We need $3,700 for someone to fly to Uganda to accompany her here. STATUS: We have a commitment for all of the funds!
Continue the orphan sponsorship program for the 52 children in the Epikos orphanage.Sponsorship means providing $30 a year, writing a personal letter six times a year, and praying for each child every day. STATUS: Most of last year's sponsors want to continue, but we need some new sponsors.
Provide the funding for Phase One of the new girls' dormitory at the primary school. Many of the students live in the dorm because their parents do not live in the area. The government has mandated that the girls and boys be housed in a totally separate building and has given the school two years to comply. The total cost of the new dormitory is approximately $35,000. We have pledged to raise $15,000 to build Phase One. STATUS: We have just over $1,000 toward this goal so far.
3) Pastor Sam and I will lead an Epikos Church mission trip to Ntandi, Uganda, next year, and you are invited. The group is limited to 15 people, the cost is approximately $2,500 per person (includes airfare), and the dates are February 22 to March 8, 2015. Pick up a flyer with all of the information at the Uganda table.
We think about Jesus's appeal in Matthew 25 (vs. 31-40), and we can't help but respond. We are proud of what we have done together, but there is so much more that we can do. During March and April, we are receiving donations to help build the new girls' dormitory. Please let us know how you and your family would like to help. Think of some friends who have a heart for the under-resourced, and give them a copy of this report along with a personal note from you. And be sure to pray for the wonderful people in Uganda whom Jesus loves so much. Thank you!
Ron Gladden
Directional Leader
P.S. You can watch our team report on this year's mission trip online, and you can see the video of some of the previous projects on the Ntandi campus.
Be the first to comment
2014 Mission Trip
by Elizabeth Eck  |  January 13, 2014
A new year has begun, and a new team has formed to embark upon another exciting mission trip to the school and orphanage in Ntandi, Uganda! Just like last year, the 2014 mission trip will take place for the first two weeks of February.
This year, the Uganda Mission Team plans to complete interviews with the orphans, so that we can learn more about their backgrounds, as well as how to best meet their needs. We are also taking all 52 orphans on a field trip to Fort Portal, a nearby village, so that they can go shopping and spend the Christmas money that their sponsors generously donated to them! Then, we will treat them all with a nice picnic dinner.
We are very excited that a dental hygienist is traveling with us! Chelsea plans to clean the orphans teeth, as long as sterilization needs can be met. She will teach the orphans, as well as all 650 students, how to properly brush and floss their teeth.
We are also delivering a tricycle to Marriam, the orphan girl that needs surgery in order to walk again (for more information about her, please see her story below). This special tricycle is pedaled by her arms, so that she can ride it between buildings at the school complex. We will build a bridge while there, so that she can travel along a smooth path. This amazing vehicle will do wonders to improve her mobility!
Finally, we plan to interview the teachers and headmaster, and observe in the classrooms, in order to learn more about specific educational needs that the school has. We are anxious to help improve classroom materials as best as we can, so that the students have more resources to develop literacy, as well as other creative skills. Previous teams have noted that books and art supplies are in short supply there, which likely creates challenges for the teachers to help students with crafts and reading.
Do you want to help the 2014 Mission Team, and the students in Ntandi? If so, between now and January 30th, please bring the following items to the weekend gathering at Epikos, and drop them off at Guest Services:
TOOTHBRUSHES AND DENTAL FLOSS. If you want to take this a step further, please ask your dentist if she or he would be willing to donate some supplies to us!
SPORTS BRAS, for teen girls
LIGHTWEIGHT, PAPERBACK CHILDREN'S BOOKS. You can find some at the dollar store!
MATCHBOX CARS. These will be gifts for the orphan boys, as someone has already made beautiful dolls for all of the girls..
COLORED PENCILS & PADS OF PLAIN PAPER
CALENDARS (please look for ones that have vibrant photos)
MEN'S AND WOMEN'S WATCHES. Along with calendars, these will be gifts for the caregivers and teachers. Many of them work for nothing but room and board, in order to help this impoverished school.
Thank you so much for your willingness to team up with Epikos Church in order to help the Mission Catalyst Orphanage in Uganda!
Marriam's Story
by Elizabeth Eck  |  October 18, 2013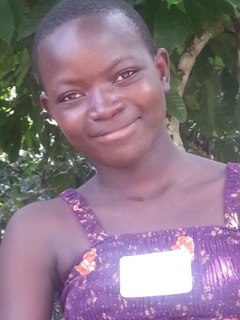 Meet Marriam! A special girl with a lovely smile and a kind heart. An important child that needs a lot of extra help in order to overcome her past and survive her future. An orphan in Uganda that desperately needs orthopedic surgery in order to walk again.
Many details of Marriam's past remain unclear, at this time. We do know that both of her parents died on the same day, when she was only three years old, and that she hasn't walked since about the age of five. Some sources say that she was drugged by a relative that broke both of her legs so that she could beg for money in order to survive, and others believe that she was handicapped as the result of disease. Whatever the circumstance, she has suffered greatly, and really needs medical intervention in order to overcome her unfortunate incapacitation.
As a young child, Marriam crawled around the streets, begging for food, until someone finally rescued her and brought her to an orphanage in Kampala. She eventually transferred to the boarding school in Ntandi, where she continues to reside. Her physical condition has greatly hindered her success in school; she is only in second grade right now, even at a high school age. The officials at her school tell us that, in her current condition, she may not thrive at all without the help of a private tutor.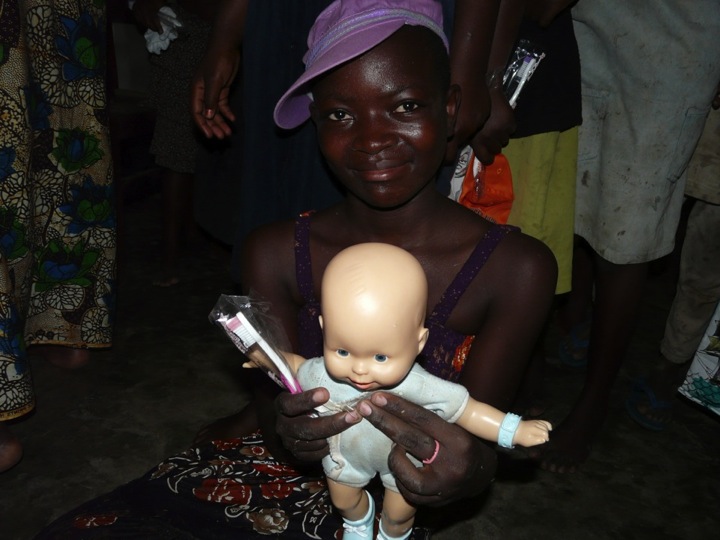 Up until just a couple of years ago, Marriam's mobility largely consisted of scooting around the dirt floors while holding a pair of flip flops, to protect her hands from blisters. She was eventually taken to a doctor in Kampala that fitted her for braces and crutches, which finally allowed her the ability to move around in a vertical position, for the first time in years. That was helpful for her; however, she still needs orthopedic surgery, and also probably physical therapy, to permanently fix her legs and finally help her walk again.
At this time, we prayerfully continue to engage in the hopeful search of finding an orthopedic surgeon to assist us on our mission trip to Uganda this February. It is very important that Marriam is formally diagnosed by a medical professional that can help advise us of all available treatment options, before we make any further decisions, either abroad or on African soil. Do you know of anyone that is willing to help us help her? If so, then please encourage them to contact us soon!
Let's find a miracle for Marriam!
New Addition to the Dining Hall
by Elizabeth Eck  |  September 14, 2013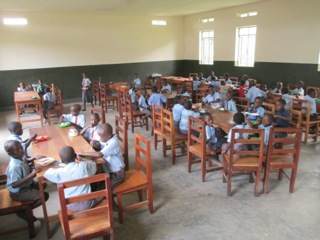 A couple of years ago, the school cafeteria in Ntandi, Uganda consisted of a tin shack with an open fire that was used to cook for all of the students. The children sat on the ground to eat their meals, beneath the trees, for minimal shelter from the hot sun or pouring rain (depending on the season). Last year, Epikos Church built a dining hall at the school. It provided tables and chairs in an indoor setting for the students to sit, along with more stoves for cooking. Then, earlier this year, we raised money to provide lunches for over half the students, who can't afford to buy lunch.
Now, we continue to progress in our efforts in feeding the children there. Last month, we ordered a new stove to send to the dining hall! We went through a local company (Cottage Grove, Oregon) that makes energy efficient stoves for third-world countries. The reviews on the stove are excellent, and we believe that it will save them a great deal of time as well as money. We are looking forward to testing out how this stove works for them, and if it is as successful as we expect, we will consider buying more of them. Thank you for being a part of our mission to feed the children in Ntandi!
For more information on this stove, check out the website for the company that manufactures them:
www.instove.org
Be the first to comment
An Exciting Announcement!
by Elizabeth Eck  |  August 12, 2013
Drumroll please…
It's the moment we've all been waiting for: the response letters from the orphans we're sponsoring in Uganda finally arrived in our mailbox this morning!!! They will be waiting for you at Guest Services this Saturday, so please stop by to pick them up from Liz!
If you have not already turned in your second letter and $5, please do so as soon as possible! We are only waiting on a few more.
Thank you for sponsoring an orphan at Epikos Church! We hope that you will be blessed to read their response letters, and understand the difference that you're making in their lives!
Be the first to comment
Coming Soon: Orphan Response Letters
by Elizabeth Eck  |  July 30, 2013
Teacher Elijah is handing out the first letters to orphans from their sponsors at Epikos Church in the photo below. Guess what? We should be receiving our letters back from the orphans, any day now!!! The school in Ntandi, Uganda just informed us that their responses to our first letters were sent in late June, and should shorty arrive in our mailbox. Who's excited to hear back from their little guy or gal overseas? Just look at some of those bare feet, awaiting new shoes!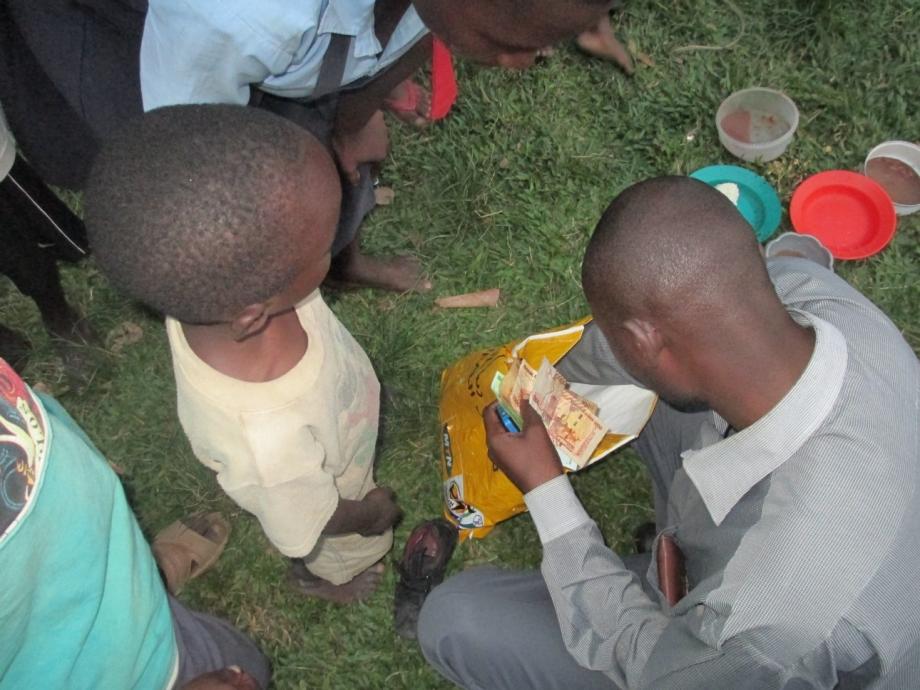 Be the first to comment

The Orphans and their Shoes
by Elizabeth Eck  |  July 26, 2013
If you are sponsoring an orphan at Epikos, you are making a great difference in the life of an impoverished child in Uganda! Here are some of the orphans in Ntandi with their new shoes, which they bought with the money we sent them this past spring. We are hoping to receive letters back from them sometime soon!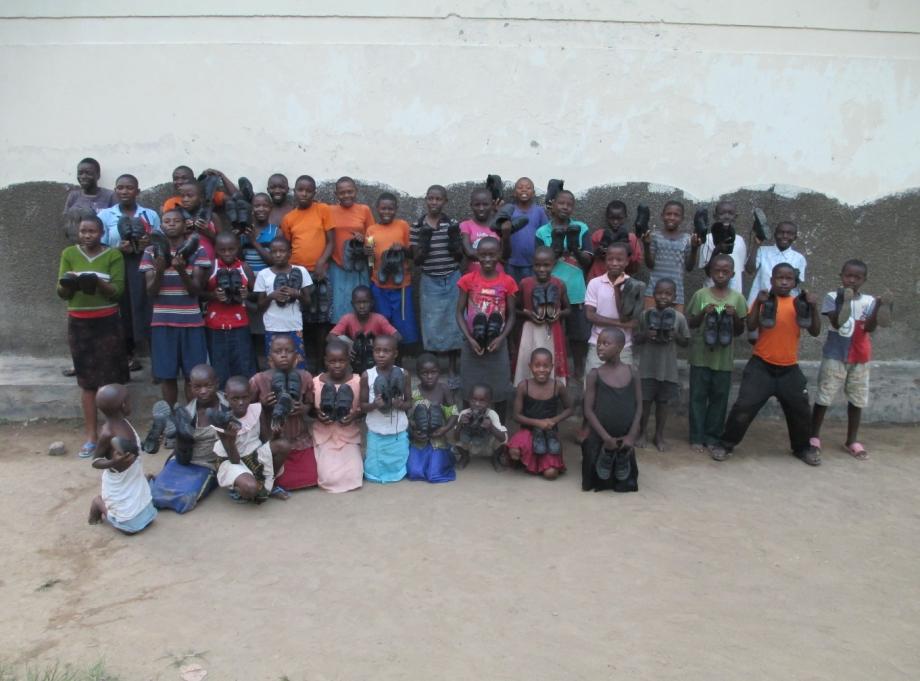 The Beginning of Mission Catalyst Orphanage
by Elizabeth Eck  |  July 20, 2013
"Who is John Williams?"
Now that all the sponsors at Epikos have received their orphan's report cards, many have wondered why the letters on the back of them are addressed to someone else. If you have found yourself asking the above question, you are not alone! So, let's clear a few things up:
First of all, the report cards are not the responses to the letters that we sent out to the orphans this past spring. We know that the orphans have recently received their letters and shoes from us (pictures will be posted shortly), and they should be writing back in the near future. We are all excited to hear back from them, and we will alert you the moment that there is more news on this!
These report cards are performance reports for the orphan students of Ntandi SDA Integrated Day and Boarding Primary School, and the most recent ones are from Term I in 2013. That term was in session during the most recent mission trip to the school, in February, which was before the orphan sponsorship program began. The other students at the school took their report cards home to their parents, and the report cards from the orphans were mailed to us. We decided to give them to the sponsors because they are a great way to keep track of your orphan's progress in school, to know how to pray for them, and to provide some inspiration when it's time to write letters.
So, now that we've cleared that up, I'd like to introduce you all to John Williams! John and his wife, Karen, are regular attendees at Epikos. Several years ago, they teamed up with Mission Catalyst, and opened the orphanage at the school in Ntandi. The very orphanage that houses the orphans we sponsor, as a matter of fact! Here is John's story:
"To start a discussion of the origin of the Mission Catalyst Orphanage, you must first look at the missionary spirit. People like us have been influenced by many loving people, who in the course of ministering to us, have instilled in us an outward focus. In so doing, we started looking for ideas and places where we can make a difference. My missionary interests developed first in supporting others in their efforts in the local church and the denomination we were associated with. I sensed a joy to see faith in others. It gave me fellowship with others serving, and a part in something good. This led to a number of church-related functions, jobs, committees and involvements. But we all grow into a form of independence, not in rebellion, but I believe a natural call from God to mature into an individual servant and gospel worker. So after being part of a successful church plant where I was a force in getting it going (along with a small group of others, including Ron Gladden), the thought and desire were to make a real difference in people's lives.
After the Mission Catalyst church planting organization was formed, with my interest in planting activity, I followed and supported (in a minor way) what this group was doing. Ron Gladden, its founder, received a request from Kampala, Uganda to help start a church. The appeal was interesting, so being a man who enjoys travel and adventure, he headed to Uganda. Upon his return, not only did we hear of the marvelous opportunity (for a very few dollars) churches could be planted and people brought to Christ, but I heard of the kids living with nothing. Orphans surviving from meager handouts from relatives and whatever they could scrounge from trash or could steal. Here is where the orphanage sprouted. A light went on in my head. We could make a real life of faith possible where suffering and most likely an early death were the future. Little guys suffering a few years in a miserable life ending in a shallow grave in the corner of someone's garden, forgotten.
So we started dreaming, reading, thinking, and talking about this idea of a project for a bunch of kids.  Well, like all things in this world, there are problems. Our pastor in Kampala turned out to be a fraud. We begin to read of rip-offs, of denominational missions being dismal failures, and half-built schools, and corruption of every kind imaginable. I read of the area's history. Its tradition is one of violence (even cannibalism), and almost no value for human life. The government, now fairly stable, had a history of mass genocide. So, at times, it seemed this was not really our calling. But God had a different idea.  He heard us, and he heard the cries. And finally, a friend of a friend of a friend suggested getting in touch with Thor Pedersen. This man and his wife, Anne, have spent the biggest part of their lives ministering right in Uganda. So we were off!  Emails begin to fly across the seas to them in Australia and back. Finally, in early 2006, Thor bought a world air pass and came to see us. We had him as a guest in our home, and visited for hours, and laid the plans for what exists today.
Ron and his daughter, Jana, visited Ntandi in 2006, coming back with reports of all kinds of interesting stories, but generally encouraging ones. We were ready to go for it! I funded the project, and we begin to see pictures of foundations, and African guys laying brick and putting on stucco and roofing. Interests came from around the area from clans wanting to send their orphans. We hired a leader, and an assistant, and here came a whole bunch of skinny little black-skinned people with nothing but a few ragged clothes on, and no possessions.
We continued to run into all kinds of problems. Even with Thor Pedersen's help, we ended up with a leader who robbed us and the mission. But we were learning that God wanted us to persevere, even when at great disadvantage. Before this sad discovery, we did manage to get the orphanage built and operating fairly well. Orphanage leaders goofed up, and kid tore things up…the toilets were plugged with grass (the kids were not used to using toilet paper). During this time, starting just a little earlier, the primary school (which was Thor's main focus at the time) got up and running, and God sent us a real leader in Enock Isebojo, who is with us today. His official position is Head Master of the Primary School, but he leads the whole mission.
The experience from then on includes my visiting them in 2007, and again in 2010, and a whole mountain of letters and reports and problem discussions, but also reports of baptisms. Letters of hope from once-little-ragged-neglected kids writing with plans, dreaming and playing, wanting and fully expecting to get stuff of all kinds…to have friends, go places, be nurses, teachers and policemen…being happy in their particular way."
Be the first to comment
Look Who's Excited to Get New Shoes!
by Elizabeth Eck  |  July 13, 2013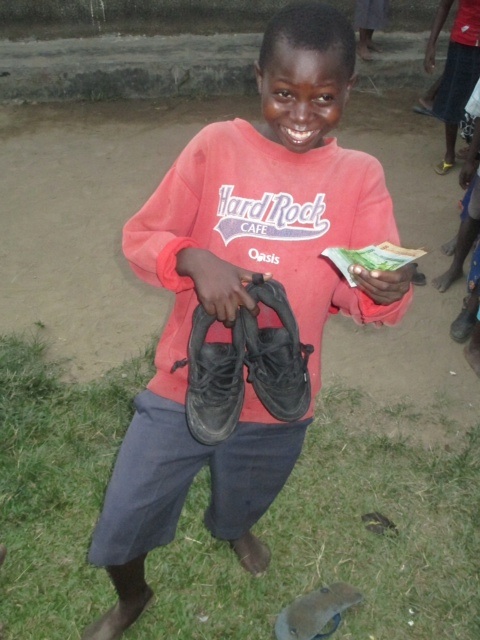 This is the orphan that I'm sponsoring, Geofrey! Look at how excited he is to receive the money we sent for a much-needed pair of new shoes!! Would you like to sponsor an orphan and make a difference in their lives? There are two new ones that are awaiting sponsors! Contact us for more information.
Be the first to comment
Orphan Letter
by Elizabeth Eck  |  July 7, 2013
Are you struggling with orphan letter writer's block? If so, we hope that this letter writing guide will provide some inspiration for you! Don't forget that the letters and $5 are due at the service this Saturday, July 13th. Thank you for taking the time to bless your orphan from overseas!
Hello, (Orphan's Name)!
This is (Your Name) , and I greet you with The Lord's blessings! I am praying for you every day. I pray for ______ and ______.
I hope that you received the last letter I sent, along with the picture(s). Here is another picture that I included, of (Description of Picture). I thought that you might like it because ______. Will you please ask your writing teacher if they can help you respond to my letter? I would like to hear back from you soon! If your child is writing the letter, we strongly encourage you to include a picture that they drew or colored to include with it, and to describe the picture.
What did you do during your last school break? This summer, I have been ______ and ______. The weather has been ______, so I have also ______. If your child is writing the letter, they can talk about going back to school in the fall– what grade they're going into, etc.
I saw your last school report! I see that you are doing (well/excellent/good) in ______. Keep up the good work! It looks like you are struggling with ______ right now. I hope that you will ask your teachers for help this next term so that you can improve in this subject. I liked the pictures that you drew because ______. If you don't have your orphan's report card, you can ask them some questions about school instead.
Spend a paragraph telling the orphan something special about yourself.
Spend a paragraph writing about specific interests the orphan has– a favorite animal or school subject. If there isn't much information on them available, you can ask them some questions about themselves– favorite color, animal, activity, etc.
A Bible verse that has encouraged me lately is ______ because ______. What is your favorite Bible verse? I hope that this next term in school is ______ for you, and that you can write back soon!
May God Bless You,
Your Name